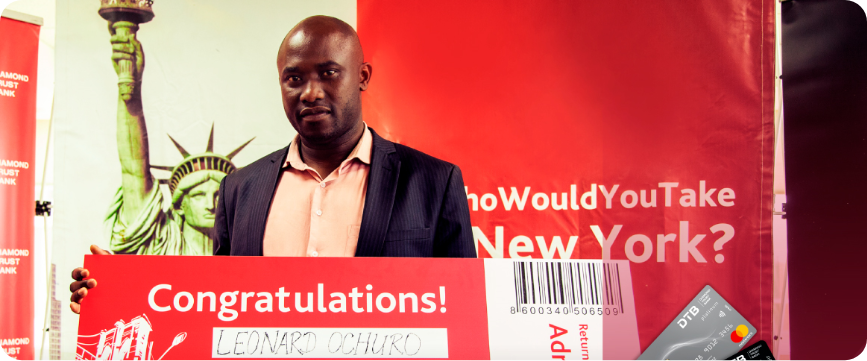 Diamond Trust Bank (DTB) and Mastercard announced the winner of its recent partnership campaign, Who Would You Take.
Nairobi, January 24, 2020:
Leonard Ochuro, a 35-year-old businessman in the construction and interior design industries, won the campaign's grand prize and will travel with his wife on a fully-paid trip to New York. Mr Ochuru, who hails from Kisumu, Kenya, entered the competition by using his DTB Mastercard to complete a transaction in December. While he had hoped he would one day travel to the Big Apple, he was delighted that the trip will take place sooner than expected.
"When DTB called to tell me I had won, I wasn't sure what to think. I have never won anything in my life apart from the bonus airtime you get when you use a certain amount," Ochuru exclaimed.
Speaking at the ceremony to hand over the grand prize, DTB Group Chief Executive Officer and Managing Director Nasim Devji said the 2019 year-end promotion was successful.
"This campaign was part of our effort to appreciate our customers, driven by our values on excellence and customer centricity. We always strive to put the satisfaction of our customers first, leveraging various channels and touchpoints, to ensure convenience," said Ms Devji.
Adam Jones, Vice President and Area Business Head East Africa, Mastercard, said, ""Our long- standing partnership with DTB allows us enable their customers to embrace cashless efficiency by providing them with safe, interoperable digital payment solutions. Today, we are delighted to have partnered with DTB to bring this truly priceless experience to all the winners in this campaign and wish Mr Ochuro and his wife a safe and enjoyable holiday".
Mr Ochuro said he would take his wife on the trip to New York and while he was yet to digest the announcement that he was a winner, she was already looking forward to the trip.
"I've never been there so I'm expecting some big things. The farthest I have been is to Dubai on business," he added.
The couple is scheduled to spend five days and four nights in New York, with visits to the Statue of Liberty and Ellis Island, a sightseeing tour by coach and a shopping excursion planned with a professional guide.
Other winners of the campaign are Seema Sapra, who won the local trip to the Mara and Sabra Said Idha, who was awarded the Mombasa getaway.
4