DTB staff planting indigenous trees at the Nairobi National Park in partnership with Nairobi GreenLine
How did 'Much More Than Trees initiative' start?
It actually began as a small thought that I was driving after seeing pictures of the drought in South Africa, with the cracked earth, the water rationing and I thought that as Kenyans living in this good environment, we should do more to plant trees, reforestation and do more for the environment.
Why did you choose this initiative?
Water is a basic need and we felt that we needed to do something that would touch everyone in society. By planting trees, we are providing support to drought-stricken areas and making long-term impact. We seek to take this further by extending support to women in communities by helping them grow seedlings and then nurture the plants to fruition and then hopefully earn an income from selling the fruits.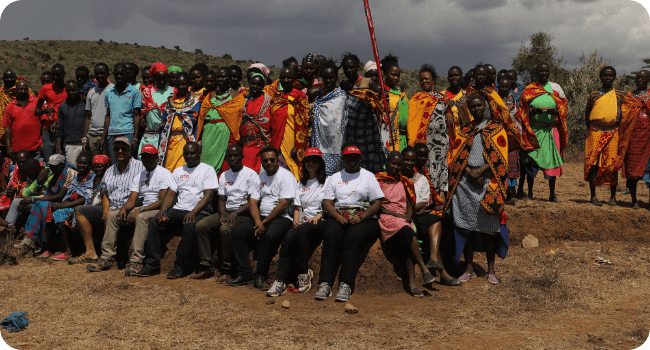 What was your key motivation?
Planting trees and assisting communities to nurture them is a practical and I must say simple way to give back to Mother Earth and humanity. It was thus easy to convince the management that we needed to do this. We also seek to support women in every way and going beyond planting trees to giving them a longer term benefit.
Please elaborate on 'Much More Than Trees' major achievements
One of the major achievements was in Narok, where we partnered with Seed Balls Kenya to drop a million seed balls, which could essentially grow into a million trees. Narok is mostly semi-arid and if the trees grow as planned, that will have a major impact.
What is the role of women specifically?
Women give birth to children and by extension families. Families become one entire human race that occupy this Earth. It is natural for women to care for and give back to mother Earth. With Much More Than Trees, we seek to work with women to nurture the trees and to eventually earn an income off the fruits.
What are the key challenges that you face with the initiative?
Scope and scale. Joint partnership access to drive it at country level and then global level. We need a green belt to produce oxygen for humans to live and take away carbon dioxide and negate the effects of industrialization.
What does the future have in store for Much More Than Trees?
The idea to plant one million trees in one year was quite ambitious but we decided we must keep at it. We got to talk to a lot of stakeholders, institutions and partners that have an interest in the issue and it was amazing how many people are interested in this journey. Even the President is driving a campaign so we are all in this together. It's an issue of importance to all humanity so we are definitely going to continue in that direction.
What kind of support can management or other agencies give to the initiative or others like it?
We can definitely do with more resources being dedicated to this by having a CSR budget that can cover the exploratory and incubation stage and help us go the entire journey. We could also do with spending more time with government agencies and like-minded institutions to promote the initiative to reach the scale and scope that we desire for it. We are also working to convert DTB customers so that they can promote the initiative. Getting more partnerships for the drive would also work for Much More Than Trees.
We are Kenyans and we are responsible for the environment to the society and to Mother Earth that is nurturing us. The journey has begun and we have stakeholders driving us and we have no option but to succeed, by God's grace.
2